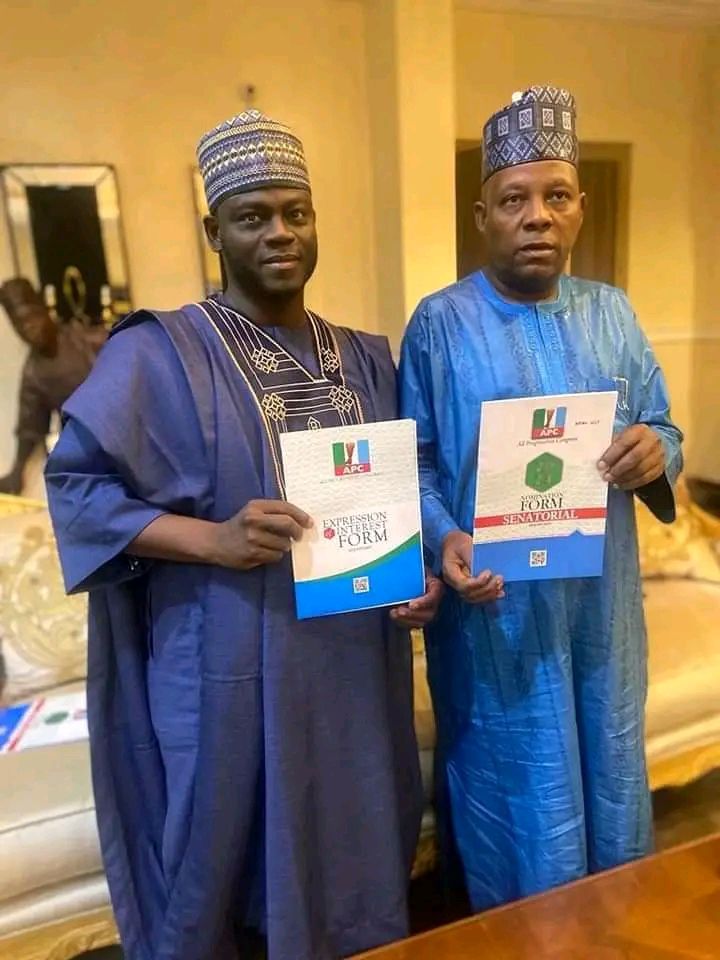 Assalaamu Alaikum my dear mothers, fathers, sisters, brothers, youth of Southern Borno and the leadership of our great party All Progressives Congress (APC) at all levels in Borno State;
With utmost gratitude to Almighty Allah always, Master of the Universe, The Omniscient, The All Hearing and All Seeing, The Disposer of Affairs, The Just and Giver of Justice, The Guide, The Exalter and The Giver of Honour, The All Wise, The Ever Witness, The Steadfast, The Patient. Alhamdulillah, Alhamdulillah, Alhamdulillah Rabbil Aalameen.
Alhamdulillah, we answered the call of our leaders to enrich the quality of political representation in the politics of our Country. We did this with full conviction for Southern Borno and I would like to express my deepest gratitude to the hundreds of thousands of millions of supporters I met personally during my campaign in the nine Local Government Areas. The unprecedented reception I received brought me to tears on numerous occasions as I listened to your stories and saw the shear doggedness in the collective resolve our people trying to survive. It was humbling and this gave me even more courage to continue to remain an advocate for social change in our society, in my own humble ways.
On this day my dear friends, I accept the Will of God as The One Who Delays and, in obeisance to the wisdom of the leadership of our Party APC, to inform you of my decision to withdraw from the party primaries to represent Southern Borno at the Senate in 2023. I know how this will make many of you feel, particularly as you all saw in our humble efforts a glimpse of the potential to improve your lives, fulfil your dreams and provide much needed and effective representation in the Senate for the growth of Southern Borno and advancement of our people. However, let us accept God's Will as what is best for us all, Ameen. Don't forget we asked of Him to choose what is best for us at all times.
My dear friends, let us not see this as a failure or be disappointed, instead, let's rejoice in the strength and have delight in the belief we had to bring real change to our people. We built a formidable campaign that touched the four corners of our Senatorial District and energized everyone and everything it came across. Ours was never about the individual, rather the collective sisterhood and brotherhood. We all hoped to bring about a humane and dignified way in the way higher-office politicians engage with the PEOPLE they represent at the grassroots and address their concerns as much as possible. In following the example set out by our Leader His Excellency Professor Babagana Umara Zulum FNSE, mni, we showed our people that it was indeed possible for the seemingly high and mighty, to humble themselves and come down to see first-hand, the struggles and listen to aspirations of thier people.
Friends, God has decided it won't be this time around, but like Africa's Nelson Mandela said, "it always seems impossible until it is done". We all know it is possible, we saw it, we tasted it and almost lived it, but we defer to Allah's appointed time for that. I am sure that this set back will not dampen our spirits my friends as we saw the prospect and capacity doing it all, so infact, let's do it again Insha Allah.
Thank you all for the support, camaraderie, and belief in my potential to be an effective Senator to our constituents and constituency, God Bless you All.
May Allah SWT continue to be our wakil at all times Aameen. Please let's keep in touch across all platforms and keep the family together for better Insha Allah.
Truly Yours,
Aliyu Muhammad Lawan Buba (Bamanga)